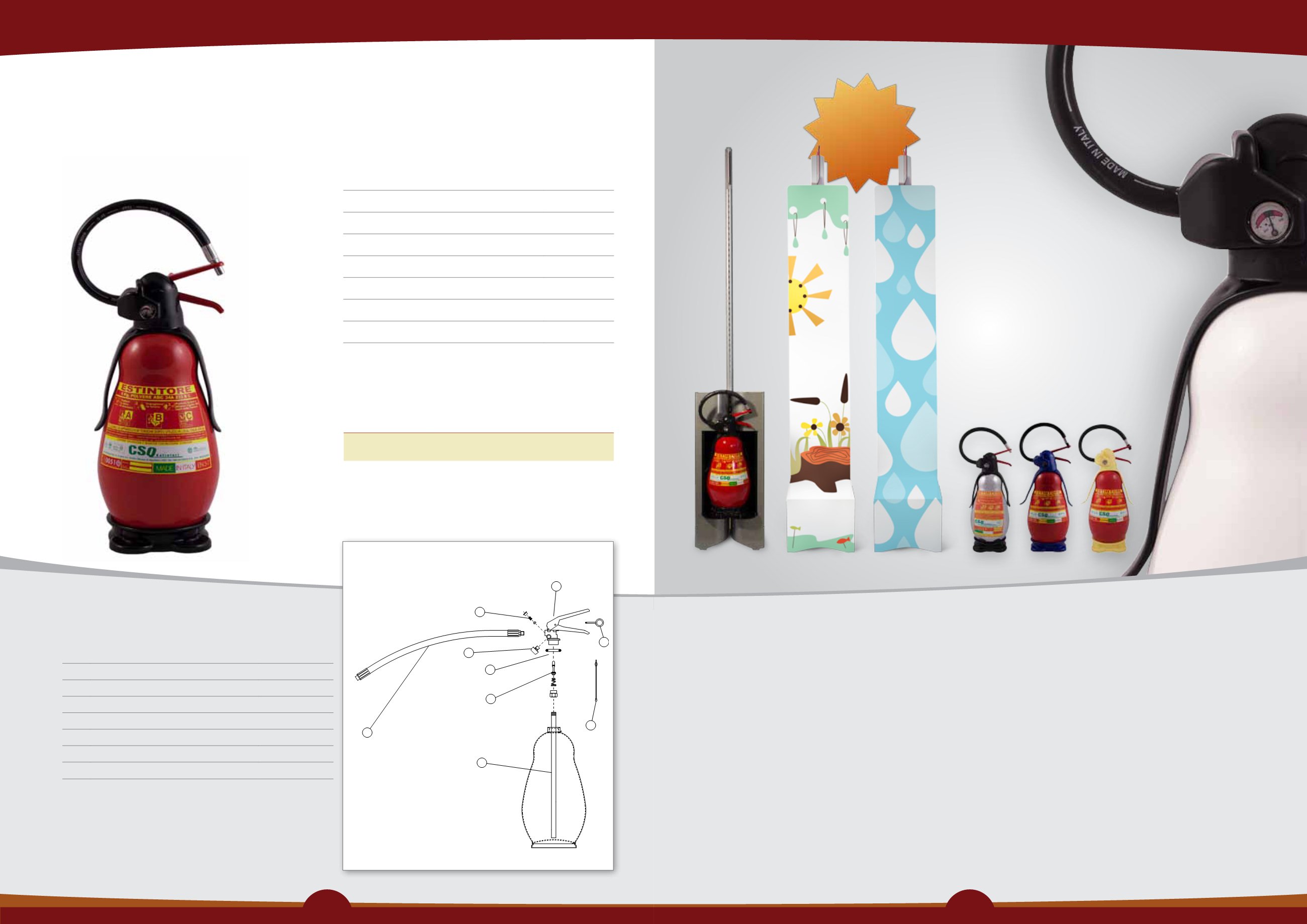 1
8
2
3
9
4
5
6
7
Portatile a polvere ABC 6Kg
ABC powder portable fire extinguisher
PINGUN il nuovo stile della sicurezza
PINGUN è l'estintore che unisce sicurezza e stile grazie ad
una sofisticata tecnologia: la lavorazione tridimensionale
dei materiali. PINGUN viene realizzato con taglio laser
e saldatura 3D di precisione eseguiti da macchinari a
controllo numerico, gli stessi che vengono utilizzati nella
meccanica di precisione, nel settore automobilistico,
nell'elettronica, nel campo medico o per la creazione di
gioielli e orologi. L'estintore PINGUN è omologato dal
Ministero dell'Interno secondo il D.M. 07/01/2005, è
certificato EN 3-7, impiega additivi di prima qualità ed è
progettato e realizzato interamente in Italia così come la
sua piantana, personalizzabile con i loghi aziendali, con il
brand di un prodotto, con i colori della squadra del cuore
PINGUN the new style of safety
PINGUN is the fire extinguisher that combines safety
and style thanks to a sophisticated technology: the three-
dimensional machining of materials.
pingun is realized with 3D laser cutting and welding of
precision made ​​by numerical control machines, the same
which are used in precision engineering, automobile
sector, electronics, medical field or for the creation of
jewelry and watches.The fire extinguisher PINGUN is
approved by the Ministry of the Interior according to DM
07/01/2005, is certified EN 3-7, employs top quality
additives and is designed and made ​entirely in Italy, as
well as his pedestal, you can personalize your pingun with
corporate logos, the brand of a product,the colors of the
team or the colors of your living room.