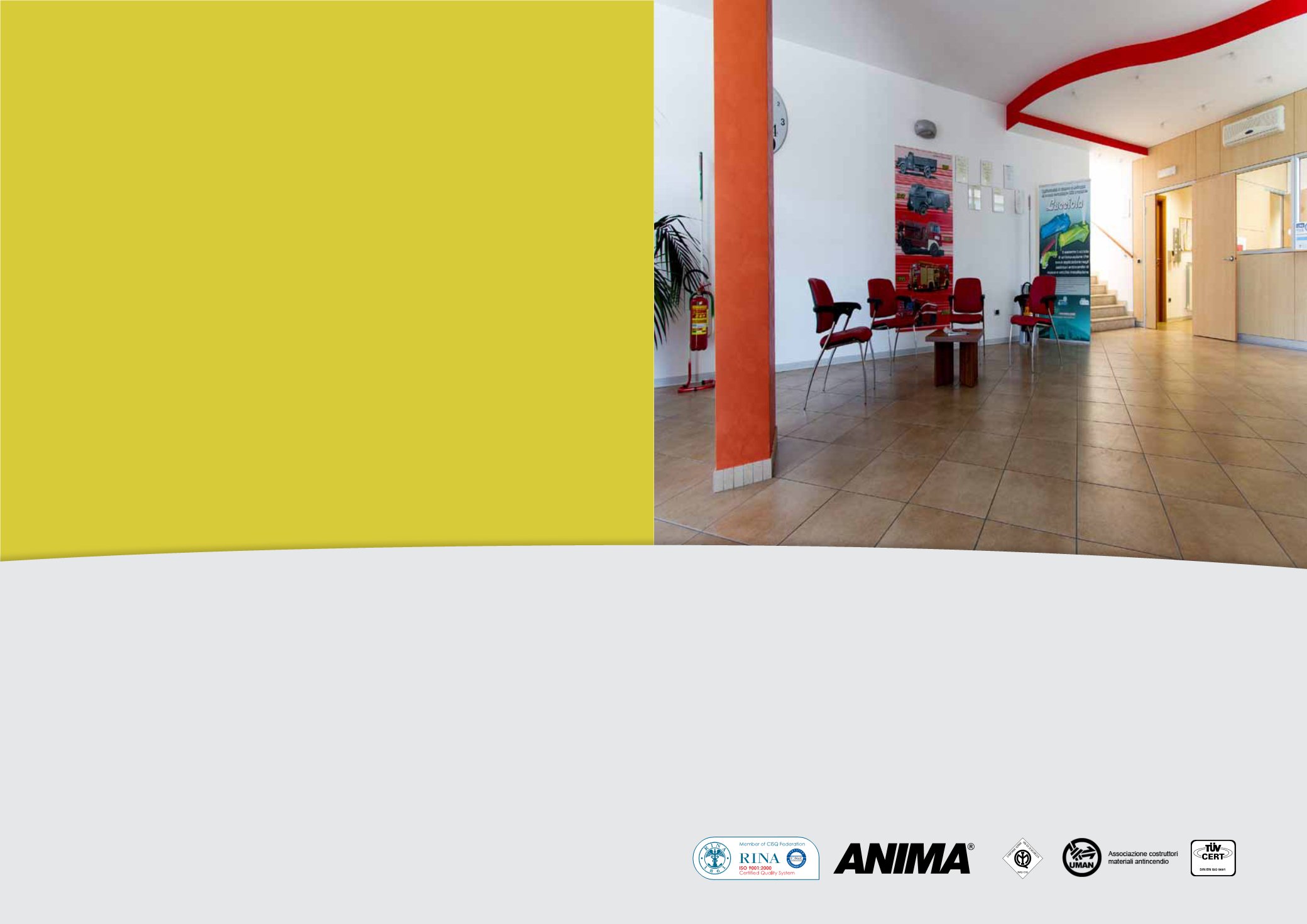 La CSQ Estintori è una dinamica realtà produttiva con
oltre vent'anni di esperienza nel settore antincendio.
Nata nel 1979 a Spoltore in pochi anni è cresciuta,
allargando il raggio delle proprie attività, sia nella
produzione che nei servizi, tanto da creare nuove divisioni
aziendali che attualmente si occupano di formazione,
antinfortunistica, progettazione e produzione di componenti
e accessori. Oggi la CSQ produce nei propri stabilimenti
di Santa Teresa a Spoltore una vasta gamma di prodotti
ad alto contenuto tecnologico ed eccellente livello di
qualità. Grande attenzione è data da sempre alla qualità
dei prodotti, infatti da parecchi anni CSQ Estintori è
certificata UNI EN ISO 9001:2008 e ha affrontato
le problematiche per la marcatura CE, secondo il Dir
97/23/CE e per la certificazione SOA. Per essere
sempre più vicini alle esigenze delle imprese e creare un
luogo unico dove poter formare i propri dipendenti, la Csq
ha dedicato una parte della propria azienda all'attività
di formazione e addestramento in conformità con il D.Lgs
81/2008 e con il D.M. 10.03.98.
La gamma di prodotti tecnologicamente avanzati,
la ricerca costante della qualità, l'attenzione per la
sicurezza e la formazione antinfortunistica, la produzione
rigorosamente "Made in Italy", hanno portato il gruppo
Sap CSQ Estintori ai livelli delle primarie aziende
Extinguishers Csq is a dynamic productive with over twenty
years of experience in the fire. Born in 1979 in Spoltore
in a few years it has grown, expanding the range of its
activities both in services than in manufacturing. We have
created new divisions that deal with training, safety, design
and production of components and accessories. CSQ
today produces in its factories in Santa Teresa di Spoltore
a wide range of products with a high technological content
and excellent quality. We are very attentive to the quality
of the product, the CSQ extinguishers are certified UNI EN
ISO 9001:2008 and he addressed the problems for CE
marking in conformity in accordance with Dir. 97/23/
CE. To be closer to the needs of businesses CSQ has
dedicated part of its activities to the education and training
of employees in accordance with D.Lgs 81/2008 and
The range of technologically advanced products, the
constant research for quality, production strictly 'Made
in Italy', attention to safety and accident prevention
training,led the CSQ between the first national companies.
Produzione e distribuzione estintori
Produzione e distribuzione accessori per estintori e
Produzione serbatoi per estintori
Distribuzione di materiale antinfortunistico
Progettazione e realizzazione di impianti
Corsi di formazione e di addestramento
Production and distribution of fire extinguishers
Production and distribution of fire extinguishers and
accessories for fire and accident prevention material
Tanks Production for fire extinguishers
Distribution of material accident prevention
Design and realization of installations
• Certificazione del sistema di qualità aziendale
UNI EN ISO9001-VISION2008
• Certificazione di approvazione del sistema aziendale
rispetto la Dir.97/23/CE-PED
• Certificazione di approvazione della produzione
di serbatoi rispetto la Dir.97/23/CE-PED
• Qualifica del processo di saldatura UNI EN 288/3
• Qualifica degli operatori di saldatura UNI EN 1418
• Certification of quality UNI EN ISO 9001:2008
• Certification of approval of the business system
in accordance with Dir.97/23/CE-PED
• Certificate of approval for the production of tanks
in accordance with Dir.97/23/CE-PED
• Qualification of the welding process UNI EN 288/3
• Qualification of welding operators UNI EN 1418