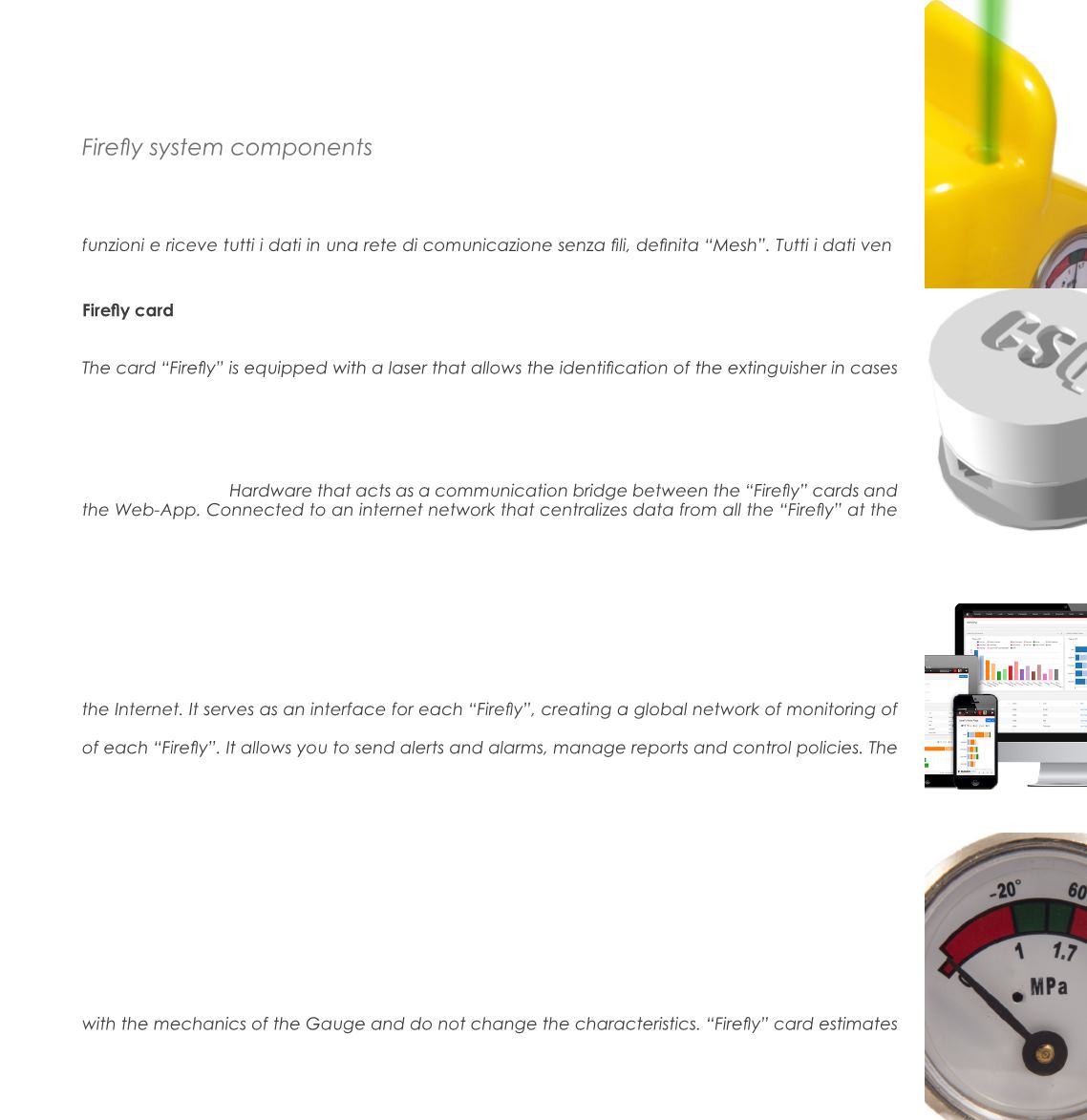 LUCCIOLA
Scheda Lucciola.
Hardware inserito nell'apposito Housing installato sull'Estintore, che ne controlla
in tempo reale lo stato, invia segnali d'allarme, avaria, effettua l'autodiagnosi di tutte le proprie
-
gono processati da un Gateway. La Scheda "Lucciola" è dotata di un laser che permette l'indivi-
duazione dell'Estintore in casi di scarsa visibilità e di un buzzer che allerta gli astanti.
. It is a Hardware inserted into Housing installed on the extinguisher, which monitors real-
time status: send warning signals, failure, performs a self-test of all its functions and receives all the
data in a network of wireless communication called "Mesh". All data is processed by a Gateway.
of poor visibility and a buzzer which alerts the bystanders.
Stazione Gateway
. Hardware che funge da ponte di comunicazione fra le schede "Lucciola" e la
Web-App. Connesso ad una rete internet, accentra i dati provenienti da tutte le "Lucciola" pre-
senti nel luogo di installazione e li fornisce alla Web-App che poi le gestirà.
Station Gateway.
place of installation and supplies them to the Web-App which then handle them.
Web App.
L'applicazione web è costituita da un software interattivo, on-line ed accessibile da
internet. Funge da interfaccia uomo per ogni singola "Lucciola", creando una rete globale di
controllo di tutti gli estintori. Permette di personalizzare le funzioni di monitoraggio, controllo e ma-
.ollortnoc id iretirc e troper eritseg ,imralla e isivva eraivni id ettemreP ."aloiccuL" ingo id enoiznetun
L'applicazione è accessibile tramite PC, Smart-Phone e Tablet e può restituire informazioni tramite
di essi in qualsiasi formato, anche via SMS.
Web App
. The web application consists of an interactive software, on-line and accessible from
all extinguishers. It allows you to customize the functions of monitoring, control and maintenance
application is accessible via PC, Smart Phone or Tablet and can return information by them in any
format, also via SMS.
Misuratore di pressione
. Misuratori installati sulla maggior parte degli Estintori a pressione perma-
nente (Ø 23 mm.) presenti sul mercato. Hanno caratteristiche costruttive uguali fra loro e quasi
sempre la stessa origine produttiva extraeuropea. A questi, senza necessità di apertura della cassa
vengono applicati, con un intervento di micromeccanica due minuscoli contatti che non inter-
feriscono minimamente con la meccanica del Misuratore non mutandone le caratteristiche. La
Scheda "Lucciola" stima il valore della pressione in relazione alla posizione della lancetta.
Pressure Gauge.
Meters installed on most of the extinguishers permanent pressure (23 mm dia.) On
the market. They have construction characteristics, equal to each other and almost always the
same source of production outside Europe. To these, without the need of opening the case,are
applied with an intervention of micromechanics two tiny contacts that do not interfere minimally
the value of the pressure in relation to the position of the pointer.